Description
Specifications
480
Rigid
2
1100
Sheet Form
1200
50
Hook Hang Tabs
40
27
12
265
400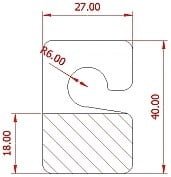 Clear Adhesive Small Hooks – SHEET FORM: BOX – Maximum Weight Rating
Our maximum weight ratings are for guide purposes only. All customer applications should be tested and verified by the customer due to the number of variables involved.
Based on a Single Peg Hang Test
Over 265 Days attached to a Stainless Steel surface this tab held a weight of 400gms. As this is a Unique Product in our range there is no comparison data from other manufacturers at this stage.
Note: The Weight Limit for this item is determined by upper Rigid PET shape.
For heavier applications.
---
All goods are dispatched after an invoice has been provided and payment is received. To maintain our best possible pricing, without building in finance related charges, we do not offer credit accounts.