Description
Specifications
Thickness / material 275 Micron rigid APET Top
Roll Form
Euro Slot Hang Tabs
mm
Recommended display weight 400g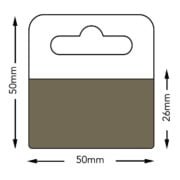 Roll Form EURO TABS
Very Economic
This is a very economical solution for both single and dual peg/rail displays
Maximum Weight Rating
Our maximum weight ratings are for guide purposes only. All customer applications should be tested and verified by the customer due to the number of variables involved.
Recommended display weight 400g
The Self Adhesive Area is Clear
Flexible PET
The Hanging Area is Clear
Rigid PET
---
All goods are dispatched after an invoice has been provided and payment is received. To maintain our best possible pricing, without building in finance-related charges, we do not offer credit accounts.
---
Our Desktop Power House Hang Tabs Applicator: